5 Questions for…Nick Dalesio, M.D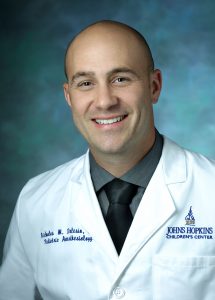 Nicholas Dalesio, M.D., is an assistant professor of anesthesiology and critical care medicine and otolaryngology/head & neck surgery at the Johns University School of Medicine.  His areas of interest include pathophysiologic diseases of the pediatric airway, including peri-operative management of obstructive sleep apnea, difficult airway management, and hyper-reactive airway disease in patients with cystic fibrosis.
What is the clinical and financial impact of difficult airway patients in a hospital (adult and pediatric)?
Encountering difficult airway patients occurs infrequently in non-tertiary care centers and is even less common in children. However, if and when these encounters occur, the outcomes can be devastating with high likelihood of significant morbidity and mortality.
What are some common scenarios regarding difficult pediatric airway cases?
Within the pediatric population, difficult airways can often be anticipated. These cases typically occur in patients who previously had head, neck, and/or airway surgery or trauma or currently have a genetic or craniofacial abnormality, which changes the anatomy of their airway. However, a difficult airway can also be unanticipated, occurring after the induction of anesthesia, where securing the airway with an endotracheal tube becomes difficult, or when intubation is being performed by inexperienced providers. Being prepared for these emergency events is imperative to prevent catastrophic outcomes.
What special skills are required for managing difficult airways for pediatric patients? And who needs to be trained in these skills?
Every pediatric practitioner should learn how to identify children at risk of having a difficult airway, as well as basic airway management skills, including mask ventilation and oral and nasal airway placement. Additionally, all pediatric providers should learn techniques to properly place supraglottic airways, also referred to as LMA. The supraglottic airway is the recommended rescue device when an airway becomes difficult. Advanced techniques, including fiberoptic intubation, should be restricted to pediatric anesthesiologists and otolaryngologists. These techniques must be maintained through continual practice, which is often difficult to accomplish for practitioners outside of these specialties.
What's involved in establishing a pediatric airway program in a hospital (and can one be established regardless of the size of the hospital staff)?
Most importantly, input and collaboration from a multidisciplinary group of pediatric specialists is needed to build an airway program. Resources required for a successful program include expert personnel, airway devices and tools, effective and reliable communication services, and educational programs to maintain skillsets in pediatric airway management. These resources can be made available with initial investment at institutions of any size.
What has been the experience of the Hopkins program?
In 2008, Johns Hopkins became one of the first U.S. hospitals to create a difficult airway response team. Since then, we have expanded the program to include pediatrics, incorporating a pediatric difficult airway consultation service and educational program. The program was created in collaboration with a multitude of pediatric specialists to improve safety and decrease morbidity, stress, and urgency associated with airway management in children.