News
UK team wins Health Business Award incorporating ACG System
Fri, 22 Dec 2017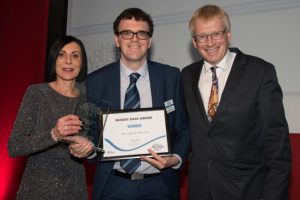 Arden & GEM CSU were winners at the Health Business Awards this month in the 'Patient Data' category for their work to develop a Risk Stratification solution which helps organizations predict behaviors such as unplanned admissions, and intervene earlier to improve patient care and reduce the burden on emergency services.
Their Risk Stratification reports utilize the Johns Hopkins ACG System. Data is combined from primary and secondary care and is processed through the ACG System. Rather than focusing on specific diseases or episodes, this system encourages a holistic view of the patient, including comorbidities that could affect commissioning and care management decisions. Reports have also been built with both commissioners and clinicians in mind, to inform commissioning decisions and support direct care respectively.
"We are thrilled to have received this award. The team work extremely hard to translate data into actionable insight that makes a difference for patients, and to be recognized in the Patient Data category is a great testament to this," said Gareth Hone, Senior Business Intelligence Developer at NHS Arden & GEM CSU. "Our winning project demonstrates the opportunities that are available to improve population health through robust information and analysis."
Click here to visit the ACG System Website.