News
ARTICLE: Collaborating to Improve Health Care Quality and Value
Thu, 11 Dec 2014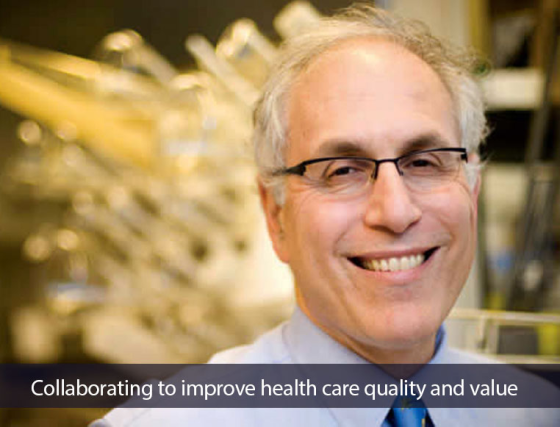 Johns Hopkins Medicine has entered into a collaboration with Premier, Inc., that both organizations hope will have a major impact on health care delivery and reform. "As executive medical director of Johns Hopkins Medicine's Business Development and Strategic Alliances, I know how important the relationships are between academics and industry. They provide us in academia with a means to accelerate our research and to develop the clinical innovations that are derived from it. As you know, research is only as good as the data that drive it, and our collaboration with Premier will give us access to their extensive and substantive performance-improvement analytics and services," said Jonathan Zenilman, MD, professor of medicine and chief of the Infectious Diseases Division at the Johns Hopkins Bayview Medical Center.
This collaboration with Premier is just the latest example of Johns Hopkins Medicine's commitment to working with industry leaders like Walgreens and Healthways, Cardinal Health and WellPoint—to improve the health of individuals and populations.
Click to read more about this collaborations, including the full press release.
More about Jonathan Zenilman
Dr. Zenilman is known internationally for his work in infectious disease epidemiology. Prior to coming to Johns Hopkins in 1989, he was a medical epidemiologist at the U.S. Centers for Disease Control and Prevention (CDC) where he conceived, developed, and implemented the Gonococcal Isolate Surveillance Program (GISP). GISP has operated continuously since 1987, and has been responsible for identifying multiple types of resistant strains before they could become large clinical problems.
In Baltimore, his activities have included directing the Baltimore City Health Department's Sexually Transmitted Infection (STI) program and developing the multi-School Johns Hopkins Center for STI Prevention and Training. He was one of the first researchers to apply geographical information system (GIS) technology to public health, and his syphilis mapping project was highlighted in Malcolm Gladwell's book, The Tipping Point.
In addition to being a productive researcher and clinician, Dr. Zenilman has been active in articulating health policy, has served as a Senior Medical Advisor for the Office of the Assistant Secretary for Planning and Evaluation (Department of Health and Human Services) 1995-1997, and has testified before Congress and the Maryland legislature on issues related to infectious diseases.
He became chief of the Infectious Diseases Division at Johns Hopkins Bayview in 2003. Under his leadership, the Bayview Division has increased from 1.5 to 9 faculty members, and has developed major clinical and research programs in STIs, hospital epidemiology, antibiotic stewardship, and skin and soft-tissue infections. Bayview has also become a center for Phase1 through Phase 3 clinical trials for new antimicrobials and wound-care products.
Dr. Zenilman has published more than 290 scholarly articles, continues to be an active teacher, and has mentored more than 40 fellows and residents during his career.
He received his BA in chemistry from Cornell University, his MD degree from SUNY Downstate in Brooklyn, New York, trained in internal medicine at SUNY Kings County Hospital, and did his infectious diseases fellowship at Emory University in Atlanta. He is board-certified in internal medicine and infectious diseases, and is a Fellow of the American College of Physicians and of the Infectious Diseases Society of America.
To bring Dr. Zenilman's expertise to your organization, or to learn more about our how we can help you with other health care challenges click here and submit the form to begin the conversation.
Johns Hopkins Under The Dome – December 2014 ISSUE