News
DECIDE Diabetes Self-Management Program Featured at NIH Speaker Series
Tue, 13 Aug 2019
DECIDE, Johns Hopkins' diabetes self-management program, has been recognized by the National Institutes of Health Office of Behavioral and Social Sciences Research (OBSSR) as an example of behavioral and social science innovation. DECIDE program developer Dr. Felicia Hill-Briggs will present at the OBSSR Director's Webinar Series (a monthly webinar series on a variety of behavioral and social sciences research topics) on September 24, 2019. Click here to learn more about the webinar and to register.
Felicia Hill-Briggs, Ph.D., A.B.P.P., is a clinical psychologist, behavioral scientist, and professor of medicine at the Johns Hopkins University School of Medicine. She is a nationally recognized expert in diabetes self-management and diabetes population health improvement. Her research has earned scientific awards as well as honors for improving community health and wellness.
Learn more about DECIDE and other innovative HealthyWorks programs.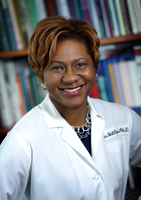 Dr. Felicia Hill-Briggs