News
Lillie Shockney, R.N., M.A.S., Wins Healthcare Trailblazer Award
Thu, 22 Sep 2016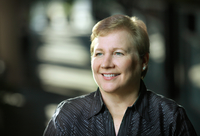 Baltimore, September 22 2016 – Lillie Shockney, University Distinguished Professor of Breast Cancer and administrative director of the Johns Hopkins Breast Cancer Center received a Healthcare Trailblazer Award at the annual Women in Business Awards Dinner hosted by Baltimore's Center Club.
The Center Club bestows the Healthcare Trailblazer Award to Baltimore-area women who have contributed to the local health care community. Shockney was one of six recipients, and two Johns Hopkins clinicians, who were honored for their contributions to Baltimore's health and well-being.
Shockney, a two-time breast cancer survivor and co-developer of the innovative employee benefits program Managing Cancer at Work, received the award for her work at Johns Hopkins to improve breast cancer care in Baltimore. She is also a certified breast cancer patient navigator and director of the Johns Hopkins cancer survivorship programs for the Kimmel Cancer Center at Johns Hopkins. Shockney is also a nationally recognized public speaker on the subject of breast cancer and breast cancer survivorship, having written 14 books and more than 250 articles on this subject.