News
ARTICLE: New Psychiatry Mobile App Available to all Providers
Thu, 5 Feb 2015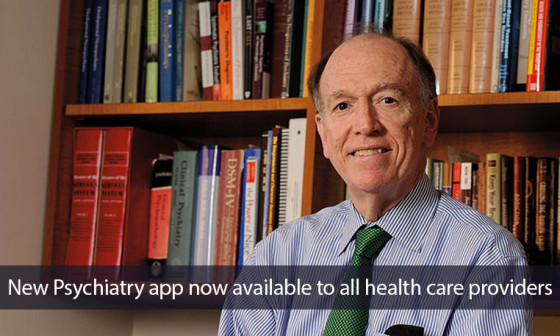 The official Johns Hopkins Psychiatry Guide, a mobile and Web-reference guide for psychiatry edited by J. Raymond DePaulo Jr., MD (pictured here), chairman of the Johns Hopkins Department of Psychiatry and Behavioral Sciences, provides clinicians at the point of care with a mobile application that lists quick-read, bulleted recommendations for the diagnosis and treatment of psychiatric diseases. Raises the standard of care and improves patient safety with frequently updated content consistent with the latest DSM-5 diagnostic criteria. Complex topics have effectively organized into need-to-know information categories, making this the ideal resource for residents, primary care physicians, psychiatrists, and other health care professionals.
Facts and topics organized in an effective way
The Johns Hopkins Phipps Psychiatry Guide gives psychiatrists and primary care providers the latest diagnostic definitions on more than 140 topics.
Details of symptoms, diagnoses, medications, drug classes, and treatments are broken down into bulleted, quick-read entries.
Informed and evidence-based guidance on whether and when to refer to specialists, as well as advice on gathering the right history and educating patients on wheat to expect from the referral.
Site Licenses are available for schools, universities, hospitals, government agencies, and companies.
From Johns Hopkins Johns Hopkins Medicine's Insight:
Joe Bienvenu is the Guide's managing editor. When he was a medical resident, he carried small reference guides in the pockets of his white coat. Today, he says, "If you ask medical students to look something up, they use a mobile device." The times have changed, and now Bienvenu finds himself as one of two editors-in-chief of a mobile and Web reference guide for psychiatry.
"Instead of flipping through pages, you can click links to get exactly what you are looking for," says the Johns Hopkins psychiatrist. "Plus, it weighs a lot less than a paper guide."
The Johns Hopkins Psychiatry Guide, also called the Phipps Guide, is preceded by digital clinical decision support guides on antibiotics, diabetes and HIV. Powered by Unbound Medicine and available to view on the Web or to download as a mobile app for Android or Apple devices, health providers now have the most up-to-date guidance at their fingertips.
"Primary care physicians prescribe three-quarters of the antidepressants in the United States," says Bienvenu. "I think the psychiatry guide will be extremely helpful to them and other providers seeking evidence-based guidance for diagnosis and treatment."
For example, if a patient reports sadness, a clinician can quickly view the definitions for a major depressive episode versus another depressive syndrome. Providers can review how common conditions are and in what populations, as well as the medical and nonmedical treatments.
Some sections of the guide include additional information on emergency psychiatry, suicidality, homicidality, involuntary commitment and the priority in which the patient needs to be seen. "It can help with triage decisions," says Bienvenu. "When should a referral be made? Does the patient need to be in the hospital?"
The guides are sold in bundles or as stand-alone products. (Inside Johns Hopkins, when logged in to the network, employees with a JHMI email account have free access to content at hopkinsguides.com.)
Read more about Dr. DePaulo, the Phipps Guide's editor-in-chief.