News
ARTICLE: Peer Support For Hospital "Second Victims"
Wed, 22 Apr 2015

Every workplace involves a certain amount of stress, and clinical settings are no exception. Everyone who has worked with patients has experienced this strain, regardless of the size or setting of their institution. From small community hospitals to complex heath systems, the day-to-day rigors of clinical work can be difficult enough. But some stressors exist beyond the cast of an average workload; a treatment plan might not play out successfully, an unpleasant encounter with a patient or their family may occur. A patient may die. The end result can leave caregivers traumatized.
The prevalence of second victims varies from 10.3% to 43.3%; however, little attention has been paid to help caregivers cope with adverse clinical events. These traumatized caregivers, or "second victims" often retreat inward. Some may choose not to seek assistance; others who do look for the appropriate kind of treatment and counseling may not be able to find it.
RISE—Resilience in Stressful Events—is an in-hospital program that addresses this problem. Volunteer staff provide 24/7 peer-to-peer support to distressed caregivers.
COMPONENTS
When you purchase the RISE program, you will be enrolled in one of the regularly scheduled day-long workshops taught by Johns Hopkins RISE team members and designed to train those hospital staff members who want to take the lead in implementing RISE in their hospital.
The RISE Workshop includes:
Information required for a healthcare organization to understand what a second victim peer support program is and how to implement RISE at their facility:
The RISE Self-Assessment Roadmap:
An online checklist of items that an organization will need to implement RISE;
A program binder that includes:

Articles and samples of organizational charts, policies, resource lists and cases;
Learning quizzes;
Forms and templates to engage program participants;
Training exercises;
"Sidebars" of hints and tips for improved program implementation, developed from the actual experiences of RISE participants.

Videos showing the experiences of program experts and participants, tailored to specific implementation topics;
The Johns Hopkins RISE team also offers, separately, on-site or telephonic consultation.
Learn more about the Johns Hopkins RISE program
Learn About The Program Innovator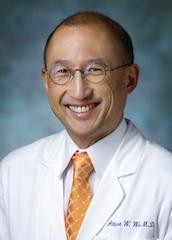 Director, Center for Health Services and Outcomes Research
Director, PhD Program in Health Services Research and Policy
Director, Certificate Program in Quality, Patient Safety and Outcomes Research
Professor, Health Policy and Management, Johns Hopkins Bloomberg School of Public Health
Among the first to measure quality of life outcomes in people with HIV, Dr. Albert Wu has long focused his research and teaching efforts on patient outcomes and quality of care. Dr. Wu has studied the handling of medical errors since 1998 and was a member of the Institute of Medicine Committee on Preventing Medication Errors and Senior Adviser to the World Health Organization Patient Safety program in Geneva from 2007-2009.