News
ARTICLE: Retain Your Hospitalists By Rating Their Morale
Thu, 5 Feb 2015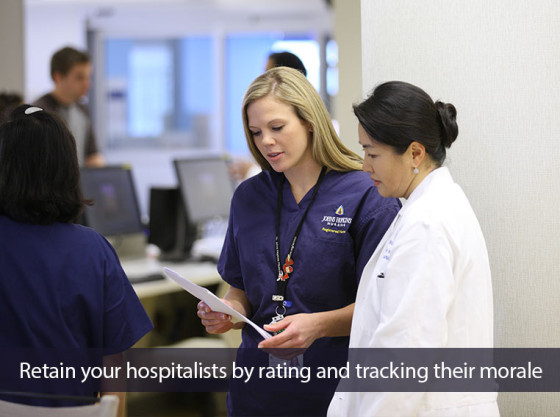 Hospital medicine is the fastest growing medical specialty. But there can be a lot of staff turnover.
Recruiting a new hospitalist costs about $10,000 and then it can take more than a year to train them. Hospital departments tend to rely on leadership—or, too often, luck—to retain good people.
Experience shows that one key driver of hospitalist turnover is low morale. Often hospitalists move from one place to another without ever being asked about their reasons for leaving. And then they hope the next hospital is a better fit.
Hopkins has one of the oldest hospital medicine programs in the United States. Our clinical researchers set out several years ago to develop an instrument to survey our own staff about morale.
The results were so helpful to us that we created this Hospitalist Engagement and Retention Survey. This instrument includes two components: an online survey and a report of the survey results.
One key feature of this report is that it compares the morale scores of your staff with those of all other survey participants.
We have administered these surveys in many community and academic hospitals, and leaders there have responded favorably to their results.
One hospital, for example, created a lactation room in response to the survey and this improvement helped the department retain several key hospitalists.
Here's more about the Hospitalist Engagement and Retention Survey.
Demand for hospitalists exceeds supply. An estimated 30,000 hospitalists are practicing across the United States today and yet it is estimated that 45,000 to 60,000 more will be needed in the coming years.
Hospitalists tend to be relatively early in their career. Perhaps for that reason, they are likely to be sensitive to issues of work-life balance and career satisfaction. And if not satisfied in one hospital, they have many options. The average hospitalist turnover rate is 12.5% to 18% annually.
There's good reason to keep experienced hospitalists. Research shows that they can reduce health care costs by $800 per case and decrease length of stay by a half-a-day.
The Hospitalist Engagement and Retention Survey consists of a series of demographic and global morale questions and a series of questions to help you better understand how your hospitalists perceive their morale, how they perceive their work environment, and how content they are in that environment.
When you order the Survey, you'll be asked to provide the email addresses of those staff to be surveyed. Then, we will send the 50-question survey to them online.
We send weekly emails to remind staff to complete the survey within the 30-day window.
The surveys are then analyzed by Hopkins bio-statisticians and hospitalists. In about 6 weeks, you'll receive a downloadable 12- to 15-page report that includes:
A summary of the survey results.
Graphs that compare your staff's various morale scores to those of all other surveyed hospitals.
A list of the most important drivers of your hospitalists' morale.
Open-ended comments submitted by your staff.
The Hospitalist Engagement and Retention Survey is a good way to understand staff concerns. It will guide you to improving staff satisfaction and increasing staff retention.