News
Use Rise to Lower Risk to Second Victims
Wed, 20 Sep 2017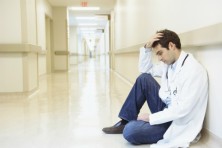 Creating a structured, hospital-based program to support caregivers as they cope with adverse clinical events has saved one hospital almost $2 million per year, according to a study in the Journal of Patient Safety.
"We often refer to medical providers who are involved in a stressful clinical event, like an unexpectedly poor patient outcome, as second victims," says the study's principal investigator William V. Padula, an assistant professor of health policy and management at the Johns Hopkins Bloomberg School of Public Health, using a term coined by his colleague, Albert Wu. "Although providers often aren't considered to be personally affected, the impact of these events can last throughout their entire career."
This and previous studies have shown that second victims are more likely to take time off of work, lose productivity, or quit their jobs after times of high stress.
Johns Hopkins has been a leader in researching the impact of clinical-related stress. From that research, a group of faculty and staff created in 2011 an institution-wide support program, called Resilience in Stressful Events (RISE), which has trained dozens of peer counselors who are promptly available to counsel nurses, physicians, social workers, and others following a stressful clinical event.
Padula and his colleagues found that the cost to implement the RISE program was far more affordable than replacing an experienced caregiver, like a nurse.
"It's hard to put a true price on the emotional support and coping mechanisms this program provides for clinicians after tragic events," Padula said.
For more on Caring for the Caregiver, read on. Download a solution 1-page overview.