What's the Cost of the Mind-Body Connection?
Do you know what costs U.S. employers $300 billion a year in lost productivity?
Employee stress.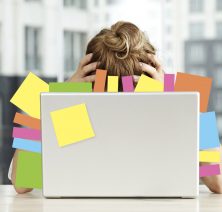 According to the American Institute of Stress: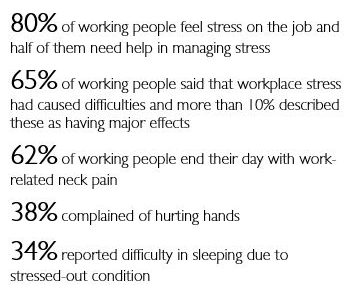 This connection between the mind and the body is the belief that psychological, social and biological factors too often cause physical illness. For example, the American Institute of Stress found that too much chronic stress (as well as anxiety or depression) can have a traumatizing impact on an individual's health including increased rates of heart attack, hypertension and other chronic disorders.
When you're stressed—even by something positive—you might develop high blood pressure, a stomach ulcer, back pain, constipation or diarrhea, fatigue, headaches, shortness of breath, and you may have trouble falling or staying asleep.
How You Can Help Your Employees
In addition to creating a workplace culture that helps employees both maintain their productivity and manage their stress, you can offer your workforce programs that help them understand their level of stress, anxiety and depression and then access the right care at the right time from the right resources for them.
Johns Hopkins Medicine has developed Balance, a two-part program to do exactly that.
Here's how it works. Individuals take an online behavioral health assessment that will indicate their level of stress, anxiety and other emotional vital signs. The assessment is free and confidential. And it can be completed in less than 10 minutes.
When they submit their completed assessment, they'll immediately receive their results, and based on their results, they may be eligible for a confidential consultation with a Balance Care Concierge. This is a specially trained, master's level, licensed clinical social worker who will talk with them about their results, create with them an action plan and connect them to appropriate and available resources that will help them get into good emotional shape. And the Care Concierge will follow the individual's progress to make sure they're getting the care and support they may need and want that works for them.
Here are a few comments from recent Balance program participants (names cannot be shared, to protect participants' privacy):
"It was positive and nice to talk to someone other than myself who really listened."
"[My Care Concierge] was easy to talk to and actually listened to what was going on with me. He provided positive feedback and resources that were very helpful."
"I liked the fact that I could do a consultation by phone[. I]t was very convenient."
"The advice and the techniques the therapist gave me were very useful and made me look at things in a different way to help me deal with my anxiety."
"[My Care Concierge] was an incredible listener, very informative about the help that could be offered to me and made me feel like this was the first time I have hope for getting real hope. She was wonderful."
"Talking with someone was a step forward."
"Easy and convenient. Provided options and flexibility to fit my needs."
Learn more about the Balance behavioral health program and how you can bring it to your workplace.