Support employees with chronic illness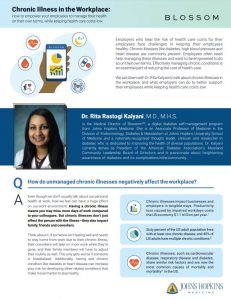 Did you know 1 in 10 adults have diabetes? And when people living with diabetes don't take care of themselves, that can lead to complications like heart disease or kidney disease.
Chronic illness like diabetes doesn't just impact your employees' health, it also impacts your business—increased absenteeism, productivity loss and higher health care costs. Helping your employees take better care of themselves also helps your business.
November is American Diabetes Month—the perfect time to learn how you can empower your employees to manage their health on their own terms, while keeping health care costs low.
Read our Q&A with Dr. Rita Kalyani, nationally-recognized thought leader, clinician and researcher in diabetes, to learn more about chronic illness in the workplace and what you can do to support your employees.