Nurse Navigator Profile: Rose Wolfe
The oncology nurse navigator for Johns Hopkins' Work Stride™ program provides support, navigation, and education—including for those interested in preventing cancer.
When someone asks Rose Wolfe why she decided to become an oncology nurse, she has a simple answer: "It was decided for me."
She grew up in a family heavily affected by cancer. Her brother's first wife—who was like a big sister to her—died of adrenal cancer. A few years later, his second wife died of a massive brain tumor. Six months after that, her mother died of breast cancer. All of these happened before she became a nurse. Then her aunt—her mother's sister—survived breast cancer but later died of lymphoma. One cousin was successfully treated for ovarian cancer, another for breast cancer, and two brothers have survived prostate cancer. Furthermore, her stepmother died from ovarian cancer, her father was treated for colon cancer, and her paternal grandmother had breast cancer.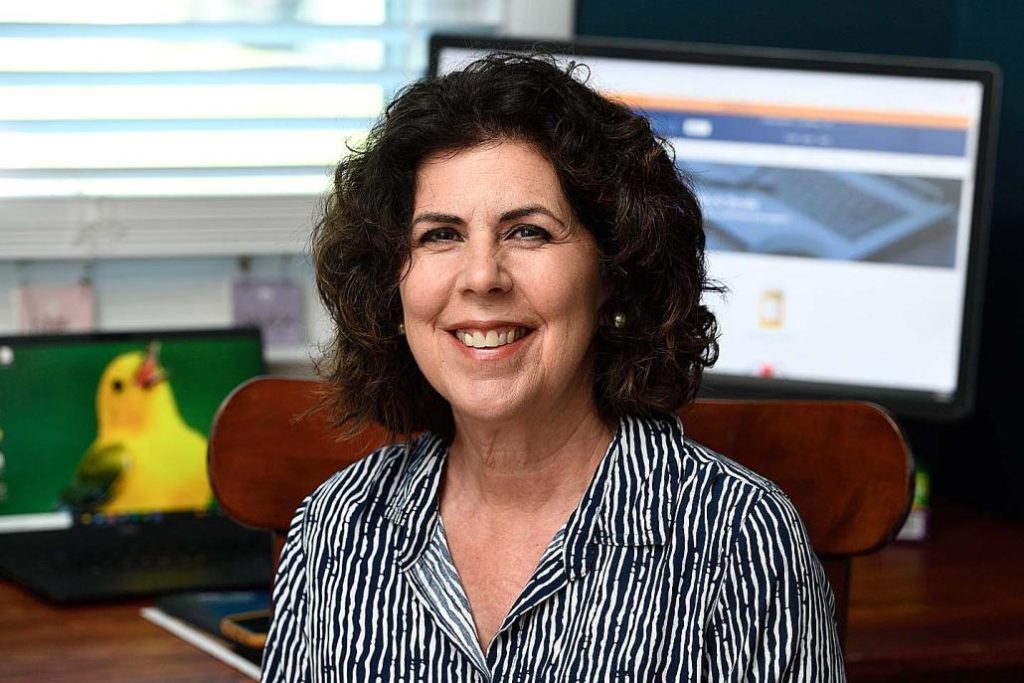 Most of these occurred during an era when few systems existed to help people navigate the complexities of appointments, second opinions, treatment options, and workplace issues, or to cope with the psychosocial and emotional effects of the disease.
"At the time, it was really hard," Wolfe says. "There were no support systems to explain what would happen next. My father was constantly trying to figure out what to do. Where do we do this? How do we do that? There was no continuity of care. Cancer can shape people's lives, and it shaped mine. Those experiences made me want to make the cancer journey for patients as easy and as uncomplicated and supportive as it can be. I've devoted my life to cancer and to making people as comfortable as possible while they are going through it."
Meet Rose Wolfe: Johns Hopkins Work Stride oncology nurse navigator.
She often is the first person Hopkins employees call when they—or a loved one—have been diagnosed with cancer. As part of the Hopkins Work Stride: Managing Cancer at Work program, she is there to provide information and emotional support, and to ensure they are equipped to manage cancer in the workplace. She is a warm and knowledgeable presence for those who are patients or caregivers, as the disease can have a powerful impact on both. The program also offers cancer risk screening and prevention information, and provides managers effective—and compassionate—tools to help their team members deal with cancer.
"[The program] has to do with being able to work during treatment if you can, and receiving support in treatment—for example, getting a second opinion," says Wolfe, who has worked with around 200 employees since coming to Johns Hopkins four years ago. "It's everything I would do in a clinical setting, although I am not the treating nurse. We make sure they have the right care, at the right place, and at the right time. We give them guidance on how to talk to their manager, to their family. Anything that has to do with cancer, I can address with the employee.
"When I talk to a patient, I don't talk about just their cancer," she adds. "I say, 'Tell me, how do you manage stress? How's your diet? How is your sleep? Do you exercise? Do you have joy and passion in your life?' I take a holistic view of the individual because cancer doesn't just affect part of you, it affects your whole being—and your family and friends. All of this is very important."
Employees also can become caregivers when a loved one is diagnosed with cancer, and their lives can change just as rapidly as the patient's, albeit with different and often new roles and responsibilities. They must juggle their jobs with taking their loved ones to appointments and often assume new tasks at home, such as cooking, cleaning, child care, or managing finances. "They not only have to care for their loved one, they need to continue with self-care in order to stay well," Wolfe says. "They will also need to make arrangements with their employer/manager for time away from work or for working a flexible schedule. Often caregivers can become tired and worn down, so getting support and guidance is very important. Caregivers need as much if not more support than their loved one, and often that goes unnoticed." The Work Stride nurse navigator can help caregivers understand the paperwork required by the Family and Medical Leave Act, which allows employees unpaid time off to care for an ill family member or other emergency, and how to talk with their managers. "The navigator can direct them to resources that will support them and their loved one," she says. Also, she can point them to her monthly virtual support group, "where they can share their concerns and learn from others. "Being a caregiver is not an easy task at times," she adds. "One has to be an advocate for their loved one so that their wishes and concerns are addressed. Learning about the cancer and what treatment entails can be overwhelming, and this is where the nurse navigator can be especially helpful with education and support."
Work Stride also focuses on risk reduction and prevention measures and encourages workers to recognize signs of potential cancer and act on them. "My mother had a lump in her breast for eight months and never told a soul," she says. This served as powerful motivation for her to help people "through the fear, uncertainty, and grief a cancer diagnosis can bring," she says. "I strive to empower individuals to advocate for their own health and wellness."
In 2017, members of her immediate family underwent genetic testing and found they carried two genes that increase their chances of developing cancer. While Wolfe herself has not had cancer, she is aware of her risk, takes preventive measures, and undergoes regular screenings. "Knowledge is power, and that's what I want people to know," she says.
Work Stride grew out of a 2011 meeting between two Johns Hopkins women, both dealing with cancer: Lillie Shockney, who was then administrative director of the Breast Center, and Terry Langbaum, who served as chief administrative officer of cancer services for JHU's Sidney Kimmel Comprehensive Cancer Center and who died of the disease in 2019.
While Shockney and Langbaum were talking on that day in 2011, Langbaum received a call from an administrator in another department who had an employee newly diagnosed with cancer. "The manager didn't want to screw up and say or do the wrong thing, so she was asking for advice," recalls Shockney, who is now University Distinguished Service Professor of Breast Cancer and a professor of surgery at the JHU School of Medicine. "I told her that I got calls and emails—or people I didn't know appearing in my office doorway crying—who were just diagnosed with breast cancer and wanted my help. I would sit down with them or work with them via phone or email and navigate them along their journey, including those getting treatment elsewhere. The two most common questions were: Am I going to die? How much time am I going to miss from work?"
The two decided that Hopkins should establish a formal program to make supportive advice available to employees who needed it. One key component was having a nurse navigator to guide employees through the process. "I live and breathe nurse navigation and felt it was critical to incorporate an oncology nurse navigator into this program, someone who can support and navigate the patient across the continuum of care starting at the time of diagnosis and finishing with the employee entering into long-term survivorship or end of life," Shockney says.
"For the last several years, Rose Wolfe has been our certified Hopkins oncology nurse navigator for our Hopkins employees," Shockney adds. "I knew her before we hired her into this role, and she has been the perfect fit for our Work Stride: Managing Cancer at Work program. She provides a wealth of educational information, walks the employee through the website to optimize their education about diagnosis and treatment, provides advice on how to talk with their boss, and even reviews with them the standards of care that are part of evidence-based treatment so that they can get the right treatment in the right setting at the right time. She is their lifeline in many cases."
Wolfe is a certified oncology nurse navigator with 30 years of experience in oncology nursing. After earning her degree in nursing in 1992 from the University of Maryland School of Nursing, she joined the oncology team at the University of Maryland Greenebaum Comprehensive Cancer Center on the inpatient hematology/oncology floor, caring for patients with leukemia, lymphoma, multiple myeloma, and other hematologic malignancies.
In 1999, she developed the new position of breast program coordinator for the Breast Evaluation and Treatment Program at the University of Maryland. She coordinated its multidisciplinary program for nine years, guiding breast cancer patients from diagnosis through treatment. Wolfe continued oncology work for 10 years at the University of Maryland St. Joseph Medical Center, helping patients through the complexities of care.
Wolfe is especially proud of her 21-year-old daughter who is graduated in May from nursing school and hopes to specialize in pediatrics. In her spare time, Wolfe takes nature photographs, focusing on birds; she knows many of them and has traveled countless hours inside and outside Maryland to find snowy owls and other bird species. "I go all over the place," she says.
Shockney says the program continues to grow. Since it was officially launched in 2015 at Johns Hopkins, the Work Stride model has been adopted by 28 other organizations. "With one-in-two men and one-in-three women getting diagnosed with a life-threatening cancer at some time in their life, virtually every employee, no matter where they work, will become a patient or a caregiver while working," Shockney says. "Providing navigation, education, psychosocial support—and eliminating any barriers an employee may have to getting care—is a privilege. We all feel this way, especially Rose. After all, we are Hopkins family." "Cancer can shape people's lives, and it shaped mine," says Rose Wolfe of Johns Hopkins' Work Stride program. "Those experiences [I had] made me want to make the cancer journey for patients as easy and as uncomplicated and supportive as it can be. I've devoted my life to cancer and to making people as comfortable as possible while they are going through it."
Click to learn more about Work Stride.
Special thanks to Marlene Cimons.
This article was originally featured here.