Solutions
Burn Medical Education (BurnMed) App
Free app to educate students and health care providers about caring for burn victims.
THE CHALLENGE
After witnessing the human devastation caused by two catastrophic fires during a medical mission to Kenya, Johns Hopkins Burn Center Director Stephen Milner was inspired to seek an effective way to teach others the steps needed to stabilize a victim in the first eight hours following a burn—a period critical for survival.
THE SOLUTION
The Burn Medical Education (BurnMEd) App is a newly released mobile app designed to educate medical students, physicians and health care workers around the globe both in the early assessment of severe burns and in the proper care of burn victims.
COMPONENTS
An alternative method to the traditional surface area calculation
Male, female and child models
Pro version includes educational guides, videos, image tutorials, and more
OUTCOMES
Improves early assessment of severe burn injuries
Educates medical students, trainees and physicians
Easy access to up-to-date information
RESOURCES
Johns Hopkins Medicine News and Publications Saving Lives Through Education: There's a Johns Hopkins App for That
WHY CHOOSE A JOHNS HOPKINS SOLUTION?
For more than 125 years, Johns Hopkins has led the way in both biomedical discovery and patient and population care. Faculty research most often leads to innovative protocols, programs and services, establishing the standard by which others follow and build upon. Our goal: make these innovations available beyond our walls to improve the health outcomes of individuals and populations—within our community and throughout the world.
QUESTIONS?
Contact us to learn more about this solution and how it can benefit your organization.
Get Solution
DEVELOPED BY: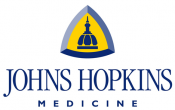 Get Solution