Solutions
Comprehensive Business Plan Development Guide
RON WERTHMAN INTRODUCES
The Comprehensive Business Plan Development Guide
THE CHALLENGE
New business planning documents are often presented to senior executives and board members in a variety of formats. Sometimes, vital information and supporting details are missing or not readily found, requiring reworking of the plan. Both leadership's and petitioner's time is wasted.
THE SOLUTION
Johns Hopkins Medicine's Comprehensive Business Plan Development Guide is a detailed handbook for developing concise, coherent and complete business plans for presentation and review by hospitals' senior leadership and executive boards. It guides planners in the development of consistent, complete and efficient business plans for each unique opportunity.
COMPONENTS
The Introduction—basic purposes and criteria that mandate the preparation of a business plan
The Outline—proper information order flow
The Narrative—outline description including content requirements and hints on how to find such information
Recommended Exhibits and Appendices including:

Your review group members
Data sources
Quarterly business plan evaluation form
Business plan exhibits
Excel spread sheets
OUTCOMES
Effectively evaluate business plans and their success
Organize business development methods
Develop concise business plans for presentations and review
Streamline business development presentations
Reduce preparation time
Standardize presentation formats that are easy to review
DETAILS
The Comprehensive Business Plan Development Guide has been used for all key projects across Johns Hopkins Medicine including the creation of Joint Venture between Johns Hopkins Medicine and a technology company to commercialize and offer to other hospitals a technology service used at Johns Hopkins; the expansion of the oncology in-patient and out-patient programs; and the creation of a new entity that will serve the international market by helping them construct and run hospitals.
SOLUTION OVERVIEW: 1-page summary to share with your colleagues
WHY CHOOSE A JOHNS HOPKINS SOLUTION?
For more than 125 years, Johns Hopkins has led the way in both biomedical discovery and patient and population care. Faculty research most often leads to innovative protocols, programs and services, establishing the standard by which others follow and build upon. Our goal: make these innovations available beyond our walls to improve the health outcomes of individuals and populations—within our community and throughout the world.
QUESTIONS?
Contact us to learn more about this solution and how it can benefit your organization.
Get Solution
DEVELOPED BY: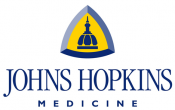 Get Solution