Connecting patients and caregivers wherever, whenever.
THE CHALLENGE
The Centers for Disease Control & Prevention reports that chronic diseases are responsible for 7 of 10 deaths each year, and treating people with chronic diseases accounts for 86% of our nation's health care costs. Lack of quality information and poor self-management too often results in trips to the emergency room and hospital readmissions to get the symptoms under control. The challenge is for patients and their providers to have more regular and effective contact to address issues before they become problems but without increasing costs.
THE SOLUTION
The Connected Clinic is an online platform designed to allow caregivers to remotely monitor and engage patients and their families to educate, guide, and help them manage their chronic conditions. Care teams have easy access to aggregated data to help them engage their chronic disease patients at the right time through personalized video coaching and a range of customizable clinical decision support tools.

FEATURED CHRONIC CONDITIONS
DIABETES
DECIDE is a self-paced interactive diabetes self-management program that focuses on problem solving and behavior change that leads to improved diabetes outcomes.
CANCER
Managing Cancer at Work is a comprehensive employee benefit program that provides managers and employees with information about managing risks as well as guidance to create a supportive workplace for those with battling cancer.
CONNECTED CLINIC COMPONENTS
Blutooth-enabled FDA-and TAA-compliant devices as well as consumer devices;
Single integrated dashboard to facilitate convenient patient-caregiver engagement;
Devices for patients who do not have a smartphone, tablet or computer
SOLUTION OVERVIEW: 1-page summary to share with your colleagues
WHY
CHOOSE A JOHNS HOPKINS SOLUTION?
For more than 125 years, Johns Hopkins has led the way in both biomedical discovery and patient and population care. Faculty research most often leads to innovative protocols, programs and services, establishing the standard by which others follow and build upon. Our goal: make these innovations available beyond our walls to improve the health outcomes of individuals and populations—within our community and throughout the world.
QUESTIONS?
Contact us to learn more about this solution and how it can benefit your organization.
DEVELOPED BY: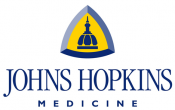 Contact Us
YOU MIGHT ALSO CONSIDER: