Solutions
DECIDE (Decision-making Education for Choices In Diabetes Everyday)
DECIDE is the only evidence-based self-paced, diabetes self-management program for adults, based on a problem-solving training model
DR. FELICIA HILL-BRIGGS INTRODUCES
DECIDE
THE CHALLENGE
Patients often struggle with diabetes self-management. And poor self-management results in poorer clinical outcomes. Patients rely on their health care providers for help, yet practitioners lack the tools to provide patients the self-management training and behavior change support they need.
THE SOLUTION
DECIDE is a literacy-adapted, self-paced learning tool that helps adults with diabetes improve self-management by developing their problem-solving skills and facilitating improved adherence to self-management behaviors. The DECIDE Training Workshop trains health care providers to train their patients and sustain the learning in a wide range of clinical and community settings.
COMPONENTS
For Health Care Practicioners
DECIDE Training Workshop (including training manuals and materials)
Certificate of Completion
For patients:
DECIDE Facts and Information Workbooks
DECIDE Problem-solving Workbook
Assessments (DECIDE Program Pre- and Post-tests)
OUTCOMES
Positive effect on A1C levels;
Positive effect on CVD markers (blood pressure and cholesterol);
Positive effect on diabetes and CVD knowledge
Positive effect on problem-solving health-related problems
Positive effect on self-management behaviors (medication adherence, healthy eating, physical activity, self-monitoring).
Positive outcomes in high risk populations and in persons with low literacy
DETAIL
DECIDE is the only self-paced, literacy-adapted, diabetes self-management program for adults, based on a problem-solving training model. Delivered by the health care practitioner, the curriculum includes a brief patient education module, followed by a series of modules focused on training patients in problem-solving as a behavioral change method for managing barriers and improving health behaviors. The DECIDE Training Workshop trains health care providers in how to use this curriculum with patients in a wide range of clinical and community settings.
Evidence-based reviews have revealed less effective outcomes for other programs. It addresses several policies and clinical practice recommendations that other diabetes programs do not:
Developed and tested with high risk patient populations;
Adapted for suitability and effectiveness with persons with low literacy and functional impairments (i.e. vision impairment, cognitive impairment) that otherwise can impede learning;
Meets Institute of Medicine chronic care model and Agency for Healthcare Research and Quality recommendations for patient self-management support programming
Meets American Diabetes Association and American Association of Diabetes Educators standards for psycho-social and self-management behavioral interventions
SOLUTION OVERVIEW: 1-page summary to share with your colleagues
WHY CHOOSE A JOHNS HOPKINS SOLUTION?
For more than 125 years, Johns Hopkins has led the way in both biomedical discovery and patient and population care. Faculty research most often leads to innovative protocols, programs and services, establishing the standard by which others follow and build upon. Our goal: make these innovations available beyond our walls to improve the health outcomes of individuals and populations—within our community and throughout the world.
QUESTIONS?
Contact us to learn more about this solution and how it can benefit your organization.
Contact Us
DEVELOPED BY: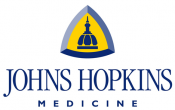 Contact Us