Solutions
Hospitalist Engagement and Retention Survey
Gain insights into your hospitalists' on-the-job satisfaction and the likelihood of retention.
DR. ERIC HOWELL INTRODUCES
The Hospitalist Engagement and Retention Survey
THE CHALLENGE
The cost of recruiting new hospitalists can easily exceed $10,000 per individual, and with the average turnover rate of 12.5% to 18%, recruitment can add significant costs financially. Conversely, retaining hospitalists can reduce costs. Research shows that an experienced hospitalist (2+ years) can reduce healthcare costs by $800 per case and decrease length of stay by a half-a-day.
THE SOLUTION
The Hospitalist Engagement and Retention Survey is a report that rates hospitalists' morale (in the full range of hospital settings) based upon a survey of hospitalists, implemented by Johns Hopkins. The results include a score that can be compared to other hospitals to help you gauge your staff against the national average so that steps can be taken to improve morale and retention.
COMPONENTS
An Overview of the survey process and the report
Survey implementation by Johns Hopkins
Survey data analysis by Johns Hopkins
Downloadable morale index report that includes:

Hospitalists' perceived morale
Individual morale scores
Characteristics of participating hospitalists
Highlights
Top most important drivers of morale
Open-ended comments
The Morale Index Score (MIS), which compares your hospitalists' morale to all others measured by Johns Hopkins nation-wide
OUTCOMES
Adequately measures hospitalist morale
Identifies areas for programmatic improvement
Increases overall hospitalist satisfaction and retention rates
Currently in-use at many community and academic hospitals
DETAILS
Most hospitals do not currently measure morale, at least not through a standardized measurement tool. They rely on luck or leadership to help navigate these issues with varying success. Standard staff surveys do not often adequately address issues crucial to hospitalists. The Hospitalist Engagement and Retention Survey is being used throughout the Johns Hopkins-affiliated hospitals so that hospital and department leaders/managers can adequately measure hospitalist morale and help identify areas for programmatic improvement, with the aim to increase overall hospitalist satisfaction and retention rates.
SOLUTION OVERVIEW: 1-page summary to share with your colleagues
WHY CHOOSE A JOHNS HOPKINS SOLUTION?
For more than 125 years, Johns Hopkins has led the way in both biomedical discovery and patient and population care. Faculty research most often leads to innovative protocols, programs and services, establishing the standard by which others follow and build upon. Our goal: make these innovations available beyond our walls to improve the health outcomes of individuals and populations—within our community and throughout the world.
QUESTIONS?
Contact us to learn more about this solution and how it can benefit your organization.
Contact Us
DEVELOPED BY: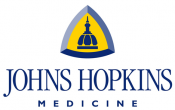 Contact Us