Solutions
Innergy®
Innovative, telephonic coach-based weight management program based on Johns Hopkins research.
THE CHALLENGE
Obesity is an international epidemic adversely affecting the health of people of all ages. A healthier weight helps support an individual's overall health and can improve the quality of their life. To be sustainable, a healthy lifestyle that leads to weight loss should also be enjoyable. Innergy's unique approach to lasting weight loss focuses on the simple joys of eating well, moving more and changing one's mindset.
THE SOLUTION
Innergy®, is an employee weight management program, developed in collaboration with Johns Hopkins Medicine. Designed as a 2-year program, Innergy utilizes specially-trained coaches and an interactive, customizable web portal to support employees who want more than just a diet—they want to develop behavior change skills that will help them lose weight and keep it off for a lifetime.
COMPONENTS
The Innergy® weight management program is an employee benefit. When a company's employees sign up for Innergy, they receive:
Innergy Coach: A specially trained behavior change coach meets members where they are and takes them where they want to go. Innergy coaches received training in weight loss science, behavior change and motivational techniques from health coach experts at Johns Hopkins Medicine. Innergy coaches guide members and keep them informed about nutrition and exercise, helping them get motivated.
Convenient Access: Members can connect anytime, anywhere at times that suit their schedule.
Tools and Resources: Simple-to-use, interactive online and mobile tools make it easy to track and view progress. Plus, recipes, flexible meal plans, health tips and more are easy to access.
Powerful Learning: Each week, a new Learning Focus help members master proven skills and strategies for success.
Inspiration and Support: Members share ideas anonymously, safely and securely with others who have similar goals and everyday challenges
OUTCOMES
Clinically meaningful weight loss averaging 5 percent or greater across the enrolled population;
Improvement in weight-related behavior patterns, such as physical activity, healthy eating and confidence in health self-management;
Sustained participant engagement and program satisfaction;
An ROI range of 2.9 to 3.3 over the first two years of the program from lower healthcare costs, reduced absenteeism and improved productivity.
DETAILS
Innergy® is not a quick-fix diet. Unlike typical fad diets that promote a temporary quick fix to weight loss, Innergy is the only weight loss solution, shown through clinical research trials, to be effective long term. Innergy is a two-year weight loss program developed by Healthways through an ongoing collaboration with Johns Hopkins Medicine. It's designed to help individuals reach a healthier weight through lifestyle changes that become lifelong habits. It's not based on the latest nutrition fads. It's an approach to healthy weight loss and weight management for a lifetime. There are no meetings to attend, no foods to buy or points to count.
SOLUTION OVERVIEW: 1-page summary to share with your colleagues
WHY CHOOSE A JOHNS HOPKINS SOLUTION?
For more than 125 years, Johns Hopkins has led the way in both biomedical discovery and patient and population care. Faculty research most often leads to innovative protocols, programs and services, establishing the standard by which others follow and build upon. Our goal: make these innovations available beyond our walls to improve the health outcomes of individuals and populations—within our community and throughout the world.
QUESTIONS?
Contact us to learn more about this solution and how it can benefit your organization.
Contact Us
DEVELOPED BY: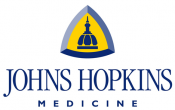 Contact Us