A Johns Hopkins Medicine 3D Application
APP FUNCTIONALITY PREVIEW VIDEO
THE CHALLENGE
While there are many sources of anatomy images used to educate students on musculoskeletal anatomy, many of them are wrong.
THE SOLUTION
Muscle Anatomy: A Johns Hopkins Medicine 3-D application is an anatomically and physiologically precise map of the human musculoskeletal system, rendered in full, immersive 3D that presents musculoskeletal anatomy in a life-like, interactive format accessible on iPhone and iPad.
FEATURES
More than 3,000 anatomy structures grouped by:
head and neck
upper limbs
trunk
lower limbs
Spin, tilt, dissect, write on, and highlight different areas of the body
Tap on labels to reveal educational information or use the 'X-ray option' to see a more transparent version that reveals three-dimensional positioning
Animated 3D models show the movements of muscles and bones in activities like raising an arm
USERS
Medical students
Physicians
Artists
Forensic scientists
Archeologists
Physical Therapists
THE JOHNS HOPKINS DIFFERENCE
The Johns Hopkins Department of Art as Applied to Medicine is the pioneer in the field of medical illustration and anatomy. Johns Hopkins-trained illustrators teamed up with Christopher Ruff, Ph.D., who directs the Johns Hopkins Center for Functional Anatomy and Evolution, to create Muscle Anatomy on the BioDigital human visualization platform.
SOLUTION OVERVIEW: Download the overview for easy reference
WHY CHOOSE A JOHNS HOPKINS SOLUTION?
For more than 125 years, Johns Hopkins has led the way in both biomedical discovery and patient and population care. Faculty research most often leads to innovative protocols, programs and services, establishing the standard by which others follow and build upon. Our goal: make these innovations available beyond our walls to improve the health outcomes of individuals and populations—within our community and throughout the world.
QUESTIONS?
Contact us to learn more about this solution and how it can benefit your organization.
DEVELOPED BY: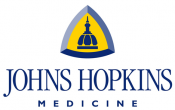 Get Solution