Solutions
Onsite Employee Health and Wellness Centers™
Onsite clinics bring the best of Johns Hopkins healthcare directly to your workplace.
DR. ED BERNACKI INTRODUCES
Johns Hopkins Onsite Clinics
THE CHALLENGE
It is challenging to control health care expenses while staying productive and improving the health and wellness of employees and their dependents.
THE SOLUTION
The Onsite Employee Health and Wellness Centers™, managed by Johns Hopkins, benefit employees by reducing their out-of-pocket medical expenses, transportation costs, and out-of-work time. Through comprehensive wellness programs, many dangerous conditions such as high blood pressure, heart disease, and diabetes are detected sooner or even prevented. Health education and events give employees insight and facilitate healthy changes like weight loss and smoking cessation.
COMPONENTS
Both routine and urgent care
On-site pharmacy and prescribing
Preventive care
Occupational medicine
Employee engagement and targeted wellness programs
Occupational safety
OUTCOMES
Increases employee well-being
Reduces health care and transportation costs
Increases productivity
Optimizes care and avoids waste
Produces high utilization and satisfaction
Results in positive ROI

DETAILS
For more than 20 years, Johns Hopkins On-site Health Clinics have provided Johns Hopkins' world-renowned high-quality care to tens of thousands of employees throughout the United States. With more than 50 Johns Hopkins On-site clinics operating in more than 25 states, Johns Hopkins On-site Clinics are benefiting employees by significantly reducing their out-of-pocket medical expenses, transportation costs, and out-of-work time. And these clinics deliver quality-driven health care to tens of thousands of employees while maintaining an historically positive return-on-investment for the employers.
SOLUTION OVERVIEW: 1-page summary to share with your colleagues
WHY CHOOSE A JOHNS HOPKINS SOLUTION?
For more than 125 years, Johns Hopkins has led the way in both biomedical discovery and patient and population care. Faculty research most often leads to innovative protocols, programs and services, establishing the standard by which others follow and build upon. Our goal: make these innovations available beyond our walls to improve the health outcomes of individuals and populations—within our community and throughout the world.
QUESTIONS?
Contact us to learn more about this solution and how it can benefit your organization.
Contact Us
DEVELOPED BY: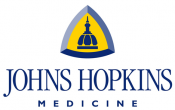 Contact Us