Onsite clinics bring the best of Johns Hopkins health care directly to your workplace.
EDWARD J. BERNACKI, M.D. INTRODUCES
Onsite Clinics
THE CHALLENGE
It is challenging to improve your employees' health and wellness while controlling health care costs and maintaining a productive workplace.
THE SOLUTION
The Onsite Clinics, managed by Johns Hopkins Medicine, benefit employees by reducing their out-of-pocket medical expenses, transportation costs, and out-of-work time. Through comprehensive wellness programs, many chronic conditions, such as high blood pressure, heart disease, and diabetes, are detected early or even prevented. Health education and events give employees insight and facilitate healthy changes like weight loss and smoking cessation.
OUTCOMES
Increases employee well-being
Reduces health care and transportation costs
Increases productivity
Optimizes care and avoids waste
Produces high utilization and satisfaction
Results in positive ROI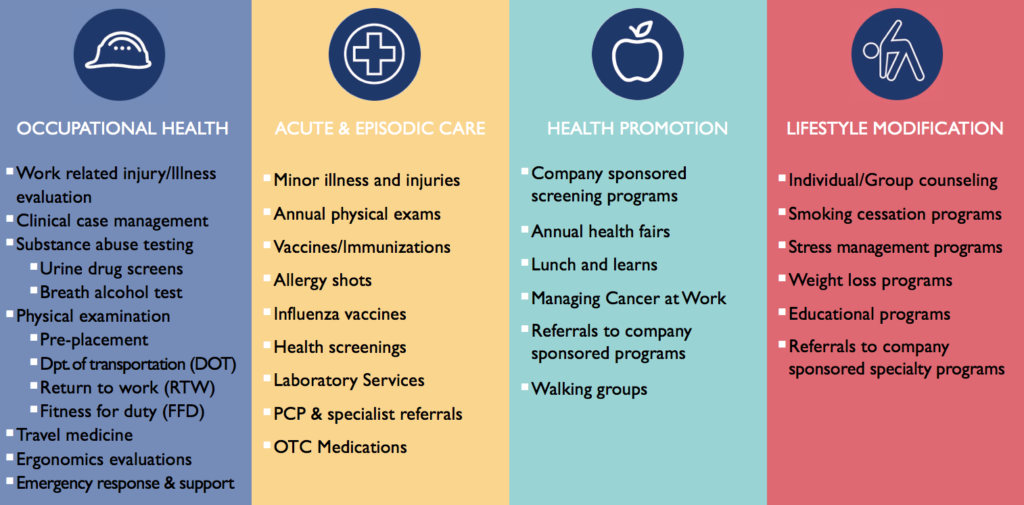 CLINIC SERVICES
-
+
Both routine and urgent care
Onsite pharmacy and prescribing
Preventive care
Occupational medicine
Employee engagement and targeted wellness programs
Occupational safety
DETAILS
-
+
For more than 20 years, Onsite Clinics have provided Johns Hopkins' world-renowned high-quality care to tens of thousands of employees throughout the United States. With more than 60 Onsite Clinics operating in more than 28 states, Onsite Clinics are benefiting employees by significantly reducing their out-of-pocket medical expenses, transportation costs, and out-of-work time. And these clinics deliver quality-driven health care to tens of thousands of employees while maintaining an historically positive return-on-investment for the employers.
FAQ
-
+
Q: WHAT IS THE SOLUTION?
A: Onsite Clinics are health clinics embedded within large-employer facilities. A clinician delivers diagnoses, treatments and guidance.
Q: What's the PROBLEM this solution addresses? 
A: By providing medical services promptly at the workside, large employers seek ways to reduce lost employee time due to illness and injury, to increase productivity and to generate direct and indirect savings.
Q: Why is Johns Hopkins Medicine the institution best suited to solve this problem?
A: Central to our partnered approach in onsite healthcare delivery is our belief in developing programs based on a clear understanding of your institution's unique health care needs and objectives.
• Mission Driven: An organization dedicated to providing the highest quality of care, with proven outcomes – both clinically and financially
• Access to THE World-Renowned Brand in Medicine: An opportunity to partner with the leader in healthcare and with our industry experts in their respective fields
• Service Excellence: An organization focused on ensuring our efforts and actions reflect our most coveted asset—the reputation of Johns Hopkins Medicine
• Flexible Solutions: A fully-integrated health system with the ability and willingness to work within our client's parameters to meet their needs at the appropriate times and places
• Continuous Improvement: An organization that learns while it is performing and that has education and research embedded deep within its DNA—Johns Hopkins Medicine cultivating tomorrow's leaders today.
Q: Has this Solution been implemented at Johns Hopkins? 
A: Yes. For more than a decade, just such a clinic as this has served the employees of Johns Hopkins through the Division of Occupational and Environmental Medicine. In FY2012 alone, 4,300 employees visited this clinic, with 28% presenting with ear, nose and throat problems. And 74% of these employees seen in the clinic were immediately referred back to work with no restrictions.
Q: What has been the success of this Solution? 
A: It delivers to employers $1.60 of health care savings for every $1 spent on employee health care.
Q: What's the optimal workforce size for incorporating such a clinic? A: Employers with 600 to 1200 employees per site.
Q: Are any regions excluded? 
A: No. This program is available nationwide.
Q: Does this replace/avoid the need for primary physicians? 
A: No. In fact, the onsite nurse practitioner provides acute, episodic care for personal injuries and illnesses, as well as counseling and education about health matters. The nurse practitioner will refer the employee to her or his primary care physician if the nurse practitioner determines that this is required.
WHY CHOOSE A JOHNS HOPKINS SOLUTION?
---
For nearly 130 years, Johns Hopkins has led the way in both biomedical discovery and health care, establishing the standard by which others follow and build upon. This is one of many faculty-developed programs, protocols and services provided by Johns Hopkins HealthCare Solutions to improve health outcomes and reduce the cost of care.
Contact us to learn more about this solution and how it can benefit your organization.