Solutions
Pyromaker: Identifies Gene Mutations
Free online application that can identify gene mutations.
THE CHALLENGE
The identification of meaningful gene mutations can be costly, and time consuming
THE SOLUTION
Johns Hopkins researchers have developed "Pyromaker," an easy-to-use online computer software application that can identify gene mutations faster and at less cost than other methods currently available. The software generates simulated pyrograms, which are readouts from a gene sequencing technique known as pyrosequencing.
COMPONENTS
Pyromaker Tutorial
An easy-to-use web based interphase.
OUTCOMES
Rapidly sorts through each of several simulated pyrograms, until there is a clear match with the actual tumor pyrogram.
Enables researchers to do in minutes, essentially at no cost, what otherwise would take days of further, expensive tests.
RESOURCES
Johns Hopkins Medicine News and Publication Sequencing Cancer Mutations – There's an App For That
Elsevier Health Sciences New Virtual Tool May Provide More Accurate Diagnosis of Genetic Mutations
WHY CHOOSE A JOHNS HOPKINS SOLUTION?
For more than 125 years, Johns Hopkins has led the way in both biomedical discovery and patient and population care. Faculty research most often leads to innovative protocols, programs and services, establishing the standard by which others follow and build upon. Our goal: make these innovations available beyond our walls to improve the health outcomes of individuals and populations—within our community and throughout the world.
QUESTIONS?
Contact us to learn more about this solution and how it can benefit your organization.
Get Solution
DEVELOPED BY: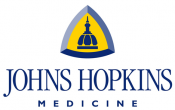 Get Solution