Reimagining life at work.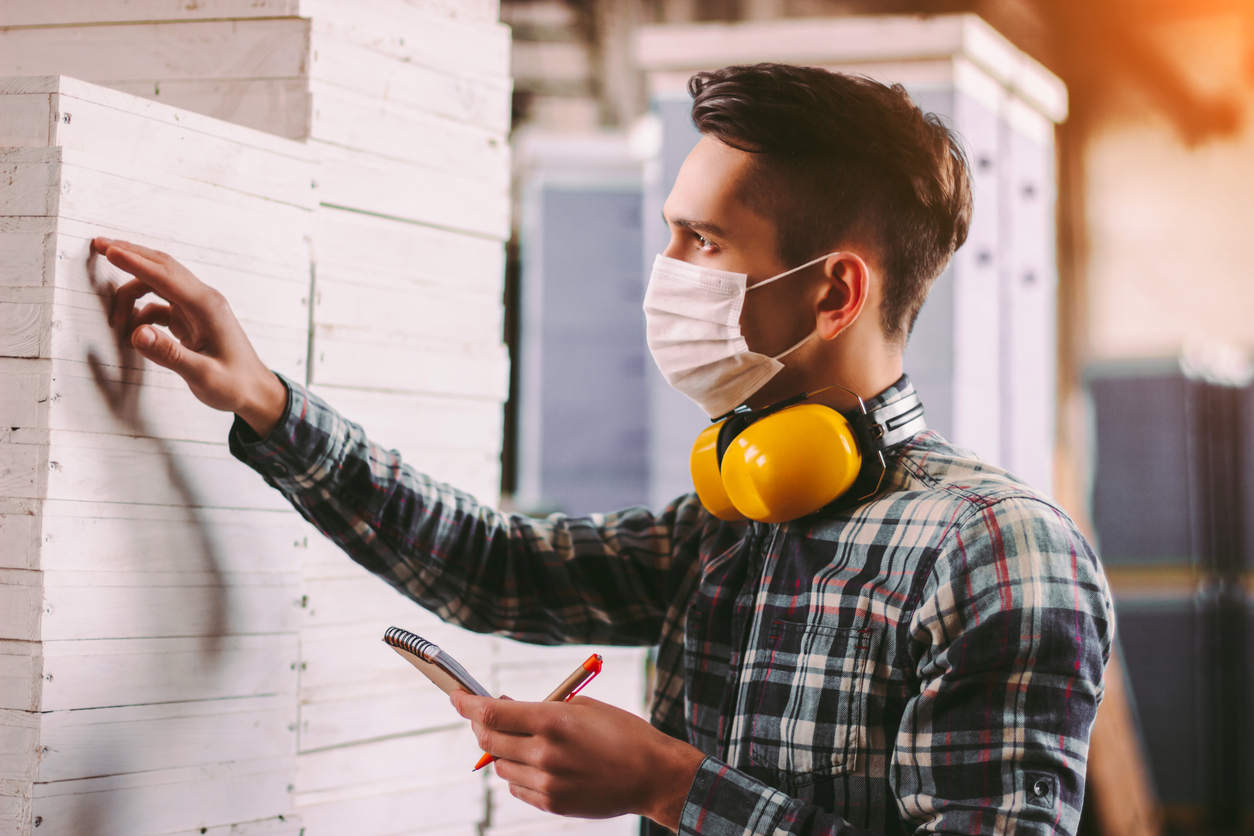 THE CHALLENGE
As the COVID-19 infection rates plateau and then decline, organizations will need help restoring business activities. As a business leader, you are looking to governments and public health agencies for general guidelines on making your workplace as safe as possible for you, your employees and their families. But as you reimagine life at work for your entire organization, how do you monitor your workforce for COVID-19 symptoms? How do you protect those in the workforce who are at high risk of an infection?
THE SOLUTION
Johns Hopkins Reset is a comprehensive program that helps business leaders prioritize the safety of their employees by reducing the risk of COVID-19 infection among their workforce.
Reset combines the power of Johns Hopkins public health expertise, population health analytics, our mobile remote monitoring app (powered by eMocha)–that helps business leaders monitor employees even before they enter the premises—and a set of leader dashboards.
About Reset
-
+
Reset combines the following components into a single, seamless package:
For Your Business
A toolkit, developed by the Johns Hopkins Center for Health Security, for identifying and assessing operational risk faced by your business and documenting modifications needed to enable a safe workplace for employees.
For Your Employee Population
A health risk assessment to identify those most at risk should they be infected with COVID-19 so that you can keep your employees working productively at their home.
For Your Individual Employees
Our easy-to-use self-monitoring mobile app* allows employees, those living in the same household, and others expected to have access to your workplace to continuously monitor their disease symptoms, which has been proven to be a global best practice for reducing transmission of infectious diseases and viral outbreaks.
For Business Leaders
When you sign up for the Reset program, you can access a set of web-based dashboards that allows you to track trend data on the health status of your employees. You also can access regular consultation with experts from Johns Hopkins on the state of health of your employee population based on risk factors and daily symptom checking results.
Download Reset Overview
-
+
Find out how Johns Hopkins can support your reopening strategy by helping you reduce the risk of COVID-19 infection among your workforce.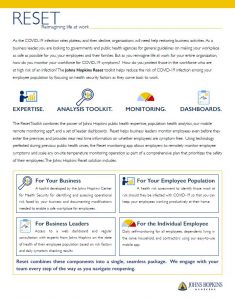 Please complete this brief form to download more information about Reset.

WHY CHOOSE A JOHNS HOPKINS SOLUTION?
---
For more than 130 years, Johns Hopkins Hospital has led the way in biomedical discovery and patient care. Now, Johns Hopkins experts in global public health, infectious disease and emergency preparedness have been at the forefront of the international response to COVID-19. Our Coronavirus Resource Center, with its global and U.S. tracking maps and the COVID-19 dashboard, developed and maintained by the Center for Systems Science and Engineering, is the trusted resource for reliable news agencies worldwide.