Solutions
The Disaster Nursing Mobile Guide
Disaster relief guidelines on your mobile device.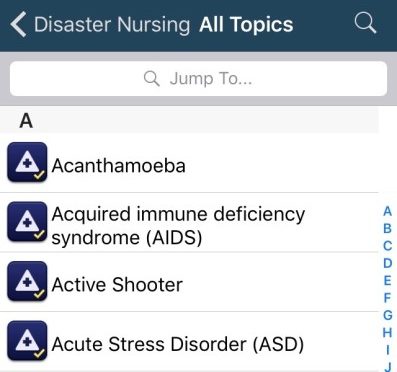 THE CHALLENGE
Public health emergencies are unpredictable and range from man-made problems like a nuclear meltdown or mass shootings, weather-related events like tsunamis and earthquakes, infectious disease epidemics, and everything in between. Nurses responding to these emergencies need ready and easy access to the critical, need-to-know information that can save lives.
THE SOLUTION
The Disaster Nursing Guide enables providers to stay ahead of the disaster cycle and ensure that they are prepared for any situation wherever they are. The guide includes information on over 400 different types of events and infectious diseases, helping nurses prepare for disasters by providing critical guidelines that can be access anytime after downloading.
COMPONENTS
Broad and comprehensive coverage of almost every disaster situation
Guidelines detailing the basics of how to manage an emergency
Individual indexes for natural disaster, man-made disasters, infections disease and more
Detailed coverage of procedures such as decontamination, isolation and quarantine
Universal Index Search helps you find topics quickly
Favorites let's you bookmark important topics
The Disaster Nursing Guide is available on iOS and Android devices for $39.99.
OUTCOMES
The Disaster Nursing Mobile Guide provides nurses with critical knowledge at the point-of-care, allowing them to respond to disasters in a timely and appropriate manner. With Disaster Nursing, nurses and public health official will have access to life-saving information, whenever and wherever it is needed.
RESOURCES
Disaster Nursing Webinar with Dr. Veenema

WHY CHOOSE A JOHNS HOPKINS SOLUTION?
For more than 125 years, Johns Hopkins has led the way in both biomedical discovery and patient and population care. Faculty research most often leads to innovative protocols, programs and services, establishing the standard by which others follow and build upon. Our goal: make these innovations available beyond our walls to improve the health outcomes of individuals and populations—within our community and throughout the world.
QUESTIONS?
Contact us to learn more about this solution and how it can benefit your organization.
Get Solution