Solutions
The Johns Hopkins Breast Cancer Handbook
Handbook for non-oncologists managing breast cancer prevention, diagnosis, and treatment.
THE CHALLENGE
Health care professionals must focus on the rising numbers of newly diagnosed cancer patients, while having less time for patients who have completed their treatment. Breast cancer survivor doctors and nurses must be trained to fulfill this growing need.
THE SOLUTION
The Johns Hopkins Breast Cancer Handbook for Healthcare Professionals covers all dimensions of breast cancer prevention, diagnosis, and treatment for the non-specialist. This handbook puts particular emphasis on the long-term survivor.
COMPONENTS
312-page paperback book
Authors:

Lillie D. Shockney, RN, BS, MAS
Administrative Director, University Distinguished Service Assistant Professor of Breast Cancer, Associate Professor, Departments of Surgery, Gynecology, & Obstetrics, Johns Hopkins School of Nursing, Johns Hopkins Avon Foundation Breast Center – Johns Hopkins University School of Medicine
Theodore (Ted) Tsangaris, MD, Chief of Breast Surgery, Johns Hopkins Avon Foundation Breast Center
OUTCOMES
Informed Cancer care specialists, primary care practitioners, gynecologists, and internal medicine physicians will all:

know how to monitor for recurrence
know how to watch for other types of related cancers
learn how to instill confidence in breast cancer survivor patients
RESOURCES
Managing Cancer at Work™– An innovative health care benefit program that supports employees and their managers.
The Johns Hopkins Oncology Patients' Guides– A series of disease-specific books that inform and guide patients on diagnosis, treatment, and coping with cancer.
100 Questions & Answers About Advanced & Metastatic Breast Cancer, Second Edition– Essential and practical guidance for newly diagnosed cancer patients, survivors or the loved ones of those suffering from advanced breast cancer.
Breast Cancer Survivorship Care– An essential guide for nurses providing care to breast cancer survivors and those interested in joining the burgeoning field of cancer survivorship care.
Navigating Breast Cancer: Guide for the Newly Diagnosed, Second Edition– Authoritative, easy-to-follow information about each step of breast cancer treatment for patients and their families.
PREVIEW
Click below to view detailed images:
WHY CHOOSE A JOHNS HOPKINS SOLUTION?
For more than 125 years, Johns Hopkins has led the way in both biomedical discovery and patient and population care. Faculty research most often leads to innovative protocols, programs and services, establishing the standard by which others follow and build upon. Our goal: make these innovations available beyond our walls to improve the health outcomes of individuals and populations—within our community and throughout the world.
QUESTIONS?
Contact us to learn more about this solution and how it can benefit your organization.
Get Solution
DEVELOPED BY: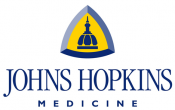 Get Solution