Tips to Cope with Stress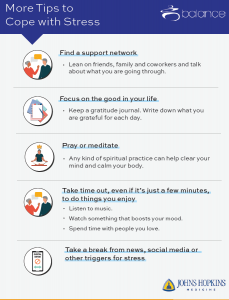 Stress is a part of everyday life. But when stress lasts for a long time, it may harm your health. Our employee wellness experts share tips to cope with stress, for you and your workforce.
Whether you are an employer caring for a workforce, a health plan caring for members or a health system caring for patients, you need tools to proactively address mental health. Balance is a personalized behavioral health program committed to delivering convenient, accessible, mental health resources. Visit Balance to learn more.
Click here to download the tips.