Welcome to the New ACG® System Website: Redesigned to Enhance User Experience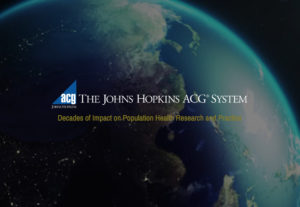 Johns Hopkins HealthCare Solutions is proud to announce the release the redesigned ACG System website. It features a dynamic new look-and-feel, more intuitive navigation, and some content enhancements including:
-An updated Resource Center
-Easier conference and event registration
-Contact forms to reach us with any questions
-Robust search functionality
-Optimization for mobile devices
-Easier access to bibliography articles, videos, webinars, and presentations
The ACG System models and predicts an individual's health over time. Using existing data—from medical claims, electronic medical records, and demographics like age and gender—health systems, health organizations, insurance companies, accountable care organizations, individual clinics, and clinicians gain insights needed to evaluate and compensate providers, stratify risk, identify patients who would benefit from care management, and forecast health care utilization.
The ACG System is an organic resource that currently impacts more than 140 million lives worldwide. For more than 30 years, Johns Hopkins statisticians and economists have collaborated with users to continually improve the ACG System's ability to describe population health and transform health care data into actionable information.
Please explore the new ACG System website and learn more about its capabilities and applications.