What We're About
We're about bringing Johns Hopkins health care to the world
Johns Hopkins HealthCare Solutions is a business team within Johns Hopkins Medicine. Our mission is to connect the marketplace to the innovative, research-based products and services derived from the work of our medical, public health and nursing faculty, clinicians, staff and students. Work that improves the health outcomes of populations. To do this we develop and manage collaborations with industry—accelerating innovation within our community and throughout the world.
We're about improving population health
Through the work of Johns Hopkins HealthCare, we provide in-depth data analytics, interpretation and customization of population health data paired with design and implementation of care management plans and clinical interventions programs to meet the unique needs of varying populations. Our population health capabilities assist organizations, health systems, and governments measure outcomes and understand the health status of their populations. Our multifaceted approach to analyzing large-scale data includes: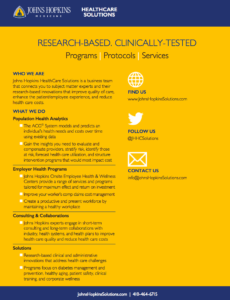 Population health assessment
Interpretation and prioritization of health needs
Risk stratification and segmentation of population
Clinical interventions
Outcomes measurements
Web-based and nurse-navigated resources
Based on this approach, we develop interventions specific to the needs of each population. Analytics also plays an essential role in the ongoing implementation, monitoring, and evaluation of the recommended health interventions. Solutions provides services founded on evidence-based research, clinical experience, and the management and delivery of health plans for populations— combining the expertise of the Johns Hopkins University, the Johns Hopkins Hospital, and Johns Hopkins HealthCare.
We're about excellence in research, patient care and education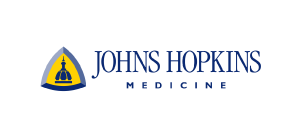 Johns Hopkins Medicine (JHM), headquartered in Baltimore, Maryland, is a $6.7 billion integrated global health enterprise and one of the leading health care systems in the United States. The JHM vision that "Together, we will deliver the promise of medicine" is supported by its mission to improve the health of the community and the world by setting the standard of excellence in medical education, research and clinical care. Diverse and inclusive, JHM educates medical students, scientists, health care professionals and the public; conducts biomedical research; and provides patient-centered medicine to prevent, diagnose and treat human illness. It operates six academic and community hospitals, four suburban health care and surgery centers, and more than 30 primary health care outpatient sites. The Johns Hopkins Hospital, opened in 1889, was ranked number one in the nation by U.S. News & World Report for 21 years in a row and again in 2013 for a 22nd time.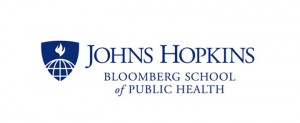 The Johns Hopkins Bloomberg School of Public Health is dedicated to the education of a diverse group of research scientists and public health professionals working to the improvement of health and prevention of disease and disability around the world.
Protecting Health, Saving Lives-Millions at a Time, the Bloomberg School has advanced research, education and practice to create solutions to public health problems around the world. Faculty, staff and students have helped eradicate smallpox, made water safe to drink, improved child survival, reduced the spread of HIV and uncovered the dangers of tobacco smoke. Researchers and scientists are now discovering ways to eliminate malaria, increase healthy behavior, reduce the toll of chronic disease, improve the health of mothers and infants, and change the biology of aging. Every day, the Bloomberg School works to keep millions around the world safe from illness and injury by pioneering new research, deploying knowledge in the field and educating tomorrow's public health leaders.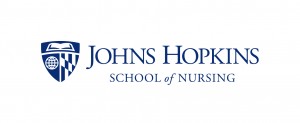 The Johns Hopkins University School of Nursing mission is to improve the health of individuals and diverse communities locally and globally through leadership and excellence in nursing education, research, practice, and service. The academic rigor of the programs, the extraordinary nursing scholarship of the faculty, and their reputation for shaping nursing graduates who are leaders in their profession position it as one of the top nursing schools in the U.S.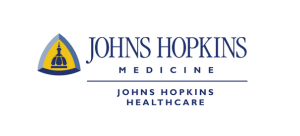 Johns Hopkins HealthCare (JHHC) develops and manages medical care contracts with organizations, government programs, and health care providers for more than 250,000 plan members. A dedicated advocate for our client-employers, patient-members and physician-providers, JHHC believes that collaboration between the three creates optimal results for patients and healthy financial outcomes for our providers and employers. Johns Hopkins HealthCare serves three lines of business: Johns Hopkins Employer Health Programs (EHP), Priority Partners, and Johns Hopkins US Family Health Plan.
We're about teamwork
Johns Hopkins HealthCare Solutions brings together a team of clinical, business, marketing and project experts who develop and nurture faculty and administrative innovations and business collaborations that help improve the health of the individual, the community and the world.
OUR TEAM
Kumar Subramaniam, D.B.A.
Associate Vice President, Innovation, Ventures & Solutions
Associate Faculty, Department of Health Policy & Management, Johns Hopkins Bloomberg School of Public Health

Mark A. Cochran, Ph.D.
Executive Director

Chad Abrams
Director of U.S. Operations, ACG System

Marissa Alert, Ph.D.
Associate Director

Alice Bauman
Senior Program Manager

Susan Carr
Associate Director

Melissa White Davis
Director, ACG System Product Marketing & Business Development


Walter Fenner, M.B.A.
Senior Project Manager

Seray Gardner
Product Architect

Ian Grant, M.P.H.
Associate Director

Traci Hanna
Project Manager

Sarah Kachur, PharmD, M.B.A., B.C.A.C.P.
Executive Director, Population Health Analytics, Strategy and Solutions

Mandy Kearney
Project Manager

Gong Li 
Population Health Analytics

Steve Libowitz, M.A.
Senior Director

Harriet M. Martyn, M.S.P.H.
Associate Director

Michelle Martin-Daniels, M.A.
Executive Assistant

Volodymyr (Vlad) Melnyk
Senior Program Manager

Alina Oseguera
Director of Finance, Commercial Markets

Bhumika Parikh
Senior Program Manager

Giulianna Peri, M.M.I.S.
Director, Strategic Alliances

Christopher Plumeri
Senior Financial Analyst

Nicole R. Sokol, M.S.
Associate Director

Eden Stotsky-Himelfarb, B.S.N., R.N., ONN-CG
Senior Oncology Nurse Navigator

Stuart M. Sutley, M.B.A.
Employer Business Development

Danielle M. Thompson
Assistant Director

Barb Van Buskirk
Director, Implementations

Rose Wolfe, R.N., B.S.N., O.C.N., H.T.C.P., ONN-CG
Oncology Nurse Navigator