Help Employees Navigate Health and Career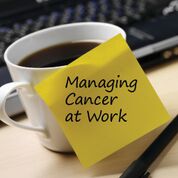 A diagnosis of cancer can be devastating, but what happens when a person must walk the line between patient and employee? One in every two men and one in every three women will have a cancer diagnosis in his or her lifetime, and one in three people will be a caregiver.
When manager Marie Dieter learned one of her employees had a resurgence of an aggressive form of breast cancer, Dieter wanted to ensure that her team member had all the support she needed.
Managers such as Dieter have seen successes with the Johns Hopkins Managing Cancer at Work program, offering a three-pronged approach to managing care.
Dieter's first step was to call the program's nurse navigator, who provides information and guidance to employees who have cancer, manage someone with a cancer diagnosis, or are caregivers for someone with cancer.
More than 350 employees at the Johns Hopkins University and the Johns Hopkins Health System have requested to speak with a nurse navigator since the program became available, in 2015.