Key Take-Aways from October 2019 Caring for the Caregiver Cohort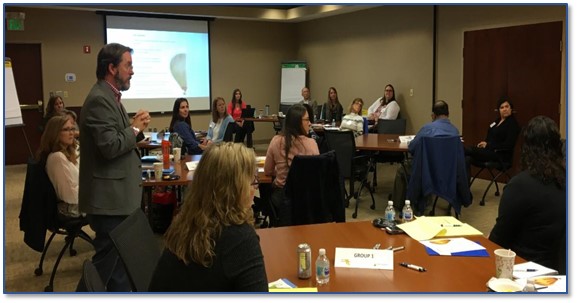 In mid-October, healthcare professionals from across the country gathered at Maryland Patient Safety Center headquarters for a two-day symposium. Representatives from numerous hospitals and health systems shared their experiences with our Caring for the Caregiver: Implementing RISE program.
With presentations and discussion facilitated by the training team from Johns Hopkins Medicine, the event was another important step in a strategic effort to create a community of learning and collaboration around the program. Large and small group sessions examined specific elements and challenges of the program more closely.
Proactive adaptations to the program were discussed; and ways to share lessons learned and best practices more broadly were explored – with potential for collaboration on a future publication.
QUOTES FROM PARTICIPANTS
---
---
---
"Overall, I think our team members have accepted what we have to offer and are using it on a regular basis.  Our responders have experienced clinicians coming to us very upset and distraught, but then you see an overwhelming calm that comes out of the situation after they've been able to share what happened. We ask questions about how they can use their support systems and they realize they have something to rely on and draw upon. You can see them calm down when they realize they're not alone. I don't know how many times we repeat over and over that we're going to be here for them 24/7, but that is an extremely important message."
–  Patty Brown, Quality Improvement Program Coordinator, Parkland Hospital – Texas
"In healthcare we've been told that enduring difficult situations is part of our job description. We all need support in order to avoid long-term consequences to our health, which includes emotional, mental, psychological and physical aspects in order to continue to thrive in our roles and to ensure that we can function at our full capacity. This resource helps us avoid longer term negative impacts for both ourselves and the people we serve."
– Maria Gonsalves Schimpf, MA, MT-BC – Denver Health and Hospital Authority – Colorado
"This program is so important because it gives healthcare workers the opportunity to connect with people who truly understand who they are and what they face as a clinician."
– Melissa Gilbert BSN, RN, CCRN– University of Maryland Medical Center
 KEY TAKE-AWAYS FROM THE OCTOBER 2019 COHORT:
Our nationwide partners have developed some tremendously creative marketing materials and very useful program documents.  Thus, we have added a folder to the CFC/RISE PARTNER PORTAL titled "Partner Best Practices", and are encouraging all of you to share documents, logos, marketing materials, etc. that may spark ideas among the group.  Please send anything you are willing to share to 

[email protected]

, and be sure to get approval from your marketing teams first!
In group discussion, we recognized that the data among most partner organizations may be lacking due to what we've called the "informal" RISE response.  If your trained Peer Responders are off-duty, but being approached by colleagues for support, encourage them to track that!  Some very valuable trending data can be lost, simply because your program- and your individual Peer Responders- have done such a wonderful job of driving awareness, that colleagues are approaching them without accessing the formal contact channel. Take credit for ALL of the good work you are doing!
Congratulations to our colleagues and friends, Cheryl Connors, Matt Norvel, and Dr. Albert Wu on their recently published article:  Peer Support for Nurses and Second Victims: Resilience, Burnout and Job Satisfaction

.  
OTHER TAKE-AWAYS
"Although there is a demonstrated need for peer support programs for healthcare workers like Resilience In Stressful Events (RISE), little is known about their utilization. This study evaluated awareness and utilization of RISE among nurses at one teaching hospital; perceptions of program benefits; and resilience, burnout, and job satisfaction among RISE users versus non-users."
 Among recent RISE users:
47% reported that RISE improved their ability to work with confidence
65% felt better after using RISE
70% found the program helpful
Among Nurse Leaders:
80% percent reported RISE was personally helpful
68% reported the program was helpful for their staff