Promoting early rehabilitation for pediatric ICU patients.


Dr. Sapna Kudchadkar Introduces PICU Up!
IMPROVING OUTCOMES
PICU Up! was developed at the Johns Hopkins Children's Center over a 2-year period of methodical protocol implementation and review including pre-and post-launch testing by caregivers in every clinical discipline across the PICU. Study results demonstrated that a bundled intervention to create a healing environment in the PICU with structured activity and mobility is safe, feasible, and may have benefits for short- and long-term outcomes of critically ill children.
Bring PICU Up! to Your Hospital
TedX talk:  "Illness Shouldn't Mean Stillness"
In her insightful TedX talk "Illness shouldn't mean stillness", Dr. Kudchadkar outlines her innovative approach to getting pediatric patients up and moving as soon as possible.
OTHER RESOURCES & PROGRAM INFORMATION
• PICU Up! overview presentation: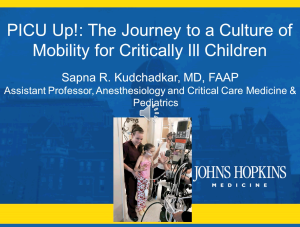 PICU Up!: A Journey to a Culture of Mobility for Critically Ill Children is a narrated presentation from program developer Dr. Sapna Kudchadkar. The 20-minute lecture provides background on PICU Up! and early mobilization efforts, a literature review and a program evaluation.
Click here to obtain your free copy of this presentation.
 • Published Study:
PICU Up!: Impact of a Quality Improvement Intervention to Promote Early Mobilization in Critically Ill Children
• Pediatric Rehab Reference Lists
This document lists 177 pediatric-specific references discussed at the 8th annual Johns Hopkins Critical Care Rehabilitation Conference, covering all disciplines.
This link provides ~2000 pediatric-specific articles, curated daily by Dr. Kudchadkar, relevant to all aspects of ICU Liberation and Rehabilitation including sedation, delirium, mobility and family engagement: bit.ly/pedsliberationliterature
• PICU Up! Team receives a Johns Hopkins Medicine clinical award:
• PICU Up! featured in The Baltimore Sun
Scheduled playtime wouldn't have been part of the treatment plan several years ago for Camden or most of the critically ill children at Hopkins' PICU. These days it's considered an integral part of the children's recovery. Click HERE to read the article.
• Accelerating Recovery in the Pediatric ICU
Evidence of PICU Up's success is visible in the halls of the Johns Hopkins PICU. A heart transplant patient did not want to walk two days after his surgery until another patient talked him into it. Now both kids loop the unit two or three times daily. Click HERE to read a feature about PICU Up! published by Johns Hopkins Medicine's News & Publications.
• PICU Up! named Top 20 Children's Hospital for Innovation and Technology
Johns Hopkins Children's Center and the PICU Up! program are featured in Parents magazine's 2018 list of the 20 most innovative children's hospitals.  Parents magazine notes that Johns Hopkins researchers are leading a worldwide movement to reduce sedation for the sickest pediatric patients, enabling them to get out of bed to do normal kid stuff.
• Letting Kids be Kids: A tale of transforming PICU immobility culture
As PICU mortality rates have fallen to all-time lows, it only makes sense that the pendulum is swinging in pediatric critical care to an emphasis on preventing morbidity and optimizing quality of life for young patients. Read Dr. Sapna Kudchadkar's article for the Society for Critical Care Medicine's Critical Connections.
•PICU Up! featured in The Lancet: Child & Adolescent Health
The PICU Up! program is featured in the July 2019 edition of The Lancet: Child & Adolescent Health. Click HERE to read the article.
•PICU Up! A multicomponent early mobility intervention for critically ill children
Read Dr. Kudchadkar's article in the international journal ICU Management & Practice. She shares an overview of PICU Up! and describes how the program integrates sleep promotion, delirium prevention, and sedation optimization to increase mobility in critically ill children.
ABOUT THE PROGRAM INNOVATOR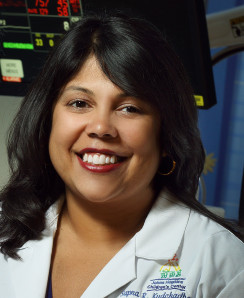 Sapna Kudchadkar is an associate professor of anesthesiology and critical care medicine, pediatrics, and physical medicine and rehabilitation at the Johns Hopkins School of Medicine. She has a bachelor's degree in biochemistry and French from Washington University, in St. Louis, and a medical degree from the University of Chicago (USA).
She completed residencies in pediatrics and anesthesiology followed by fellowships in both pediatric critical care and pediatric anesthesiology at Johns Hopkins. After clinical training, she completed a doctoral degree in clinical investigation at the Johns Hopkins Bloomberg School of Public Health where she was awarded the Sommer Scholar Award for doctoral candidates who "exemplify scientific excellence, energy, ambition, political acumen and a determination to change the world" through public health research.
Dr Kudchadkar's clinical and research focus is on functional outcomes after pediatric critical illness and major surgery and the interplay of sedation optimization, sleep promotion, delirium prevention and early mobilization in pediatric ICU care. She is the founder and director of the Johns Hopkins PICU Up! program, which has been implemented in pediatric ICUs internationally, and she is the Lead PI for PARK-PICU study (Prevalence of Acute Rehabilitation for Kids in the PICU), which includes more than 200 sites across North America, Europe, Australia/New Zealand and Brazil.
Dr Kudchadkar is the associate vice chair for research in anesthesiology and critical care medicine and the director of pediatric critical care research at Johns Hopkins.
AMP Services
WHY CHOOSE A JOHNS HOPKINS SOLUTION?
---
For 130 years, Johns Hopkins Hospital has led the way in both biomedical discovery and health care, establishing the standard by which others follow and build upon. This is one of many faculty-developed programs, protocols and services provided by Johns Hopkins HealthCare Solutions to improve health outcomes and reduce the cost of care.
Contact us to learn more about this solution and how it can benefit your organization.