Solutions
Activity & Mobility Promotion (AMP)—PICU Up!™
Promoting early rehabilitation for pediatric ICU patients.
Dr. Sapna Kudchadkar Introduces AMP—PICU Up!™
THE CHALLENGE
Traditional Pediatric ICU care has meant keeping young patients immobilized by sedation, which allows them to rest and ease their pain and suffering. However, for patients who recover, this practice often leaves them physiologically dependent on opioids and benzodiazepines, with disturbed sleep, increased delirium and physical atrophy. And this practice fails to allow dying patient's meaningful interaction with their loved ones.
THE SOLUTION
PICU Up!™ is a new non-pharmacologic protocol that promotes early rehabilitation for pediatric ICU patients. It encourages maintenance of sleep/wake cycles in children in intensive care to address the critical need for quality sleep while also keeping children physically and socially engage while in the PICU.
AMP—PICU Up!™ TOOLS AND RESOURCES
Other Hospital-wide AMP Programs
AMP—ICU
Promoting early rehabilitation in the adult ICU
AMP—Hospital
Creating a culture of activity and mobility for patients while in the hospital or inpatient rehabilitation
OUTCOMES
PICU Up!™ was developed at the Johns Hopkins Children's Center over a 2-year period of methodical protocol implementation and review including pre-and post-launch testing by care givers in every clinical discipline across the PICU. Study results demonstrated that a bundled intervention to create a healing environment in the PICU with structured activity is safe, feasible, and may have benefits for short- and long-term outcomes of critically ill children.
PICU Up!™ OVERVIEW PRESENTATION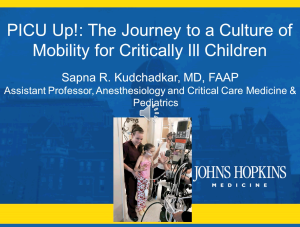 PICU Up!: A Journey to a Culture of Mobility for Critically Ill Children is a narrated presentation from program developer Dr. Sapna Kudchadkar. The 20-minute lecture provides background on PICU Up! and early mobilization efforts, a literature review and a program evaluation.
Click here to obtain your free copy of this presentation.
SOLUTION OVERVIEW: 1-page summary to share with your colleagues
WHY CHOOSE A JOHNS HOPKINS SOLUTION?
For more than 125 years, Johns Hopkins has led the way in both biomedical discovery and patient and population care. Faculty research most often leads to innovative protocols, programs and services, establishing the standard by which others follow and build upon. Our goal: make these innovations available beyond our walls to improve the health outcomes of individuals and populations—within our community and throughout the world.
QUESTIONS?
Contact us to learn more about this solution and how it can benefit your organization.
Contact Us
DEVELOPED BY: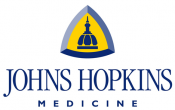 Contact Us