Model of care for treating patients with multiple chronic conditions and complex needs.
DR. BRUCE LEFF INTRODUCES
The Guided Care® Model
THE CHALLENGE
Caring for older adults with chronic conditions and complex health needs is becoming increasingly challenging. There is a lack of an efficient, cost-effective way to respond to the needs of patients with either chronic illnesses or co-morbidities.
THE SOLUTION
The Guided Care® model consists of a Guided Care nurse, based in a primary care office, working with 2 to 5 physicians and other care team members to provide coordinated, patient-centered, cost-effective health care to 50 to 60 of their chronically ill patients. The nurse conducts in-home assessments, promotes patient self-management, facilitates care planning,  monitors conditions, coordinates care efforts, smooths transitions, educates family caregivers, and more.
COMPONENTS
There is a three-year Johns Hopkins License to use the Guided Care®model and the service mark "Guided Care" in promotional materials to sell services, to enhance web presence, and for similar purposes. The License also allows you to apply in your practice the very specific Guided Care protocols. You will also be able to use of the following essential forms that will guide the implementation of Guided Care into your practice:
Guided Care health history questionnaire;
Guided Care preliminary care guide;
Guided Care care guide;
Guided Care action plan.
OUTCOMES
Improves the quality of patient care
Improves family caregivers' perception of quality of care
Improves physicians' satisfaction with chronic care
Produces high job satisfaction among Guided Care nurses
May reduce the use of expensive services
DETAILS
The Guided Care model is shaped by the lessons of 30 years of research in chronic care. Guided Care has won numerous awards, including the 2010 Case In Point Platinum Award for Case Management Provider Program at Kaiser Permanente Mid-Atlantic States; the Dorland Health's 2011 Silver Crown Award for Case/Care Management Program at Johns Hopkins HealthCare; and the 2011 Case Management Research Award at Case Management Society of America. 
This Solution page is for the Guided Care license only. For hospitals, health systems or practices that would like to fully implement the Guided Care Model, please contact us.
SOLUTION OVERVIEW: 1-page summary to share with your colleagues
WHY CHOOSE A JOHNS HOPKINS SOLUTION?
For more than 125 years, Johns Hopkins has led the way in both biomedical discovery and patient and population care. Faculty research most often leads to innovative protocols, programs and services, establishing the standard by which others follow and build upon. Our goal: make these innovations available beyond our walls to improve the health outcomes of individuals and populations—within our community and throughout the world.
QUESTIONS?
Contact us to learn more about this solution and how it can benefit your organization.
DEVELOPED BY: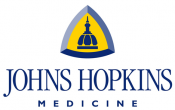 Contact Us