Solutions
The Osler Medicine Survival Guide
Point-of-care mobile app for housestaff, developed by Johns Hopkins.
DRS. SANJAY DESAI AND TED W. JAMES INTRODUCE
The Osler Medicine Survival Guide
THE CHALLENGE
With the expanding body of medical knowledge and the growing complexity of diagnoses and treatment options, the greatest challenge for early-career physicians and other clinicians who care for adults in a hospital setting is knowing what to do in real time for the patient right in front of them.
THE SOLUTION
The Osler Medicine Survival Guide is a concise mobile app providing evidence-based, best-practice care for use at the point of care. The Guide has been updated annually by the medical residents of the Johns Hopkins Residency Program for more than 20 years, with each topic validated by a clinical expert.
COMPONENTS
A mobile and tablet app available for Apple and Android devices.
The Guide was first written in 1994 by senior medical residents of the Osler Residency Training Program, who wanted to pass on what they had been learning and practicing to the next cohorts of housestaff. The user base has grown since then, to both Hopkins' nurse practitioners, physician assistants, medical students and clinicians at other hospitals, in the U.S. and abroad.
The Guide is organized in several ways:
By clinical field (cardiology, pulmonary, gastroenterology, etc)
By common on-call symptoms (nausea, chest pain, shortness of breath, fever, etc)
By procedure (arterial lines, central lines, lumbar puncture, etc)
OUTCOMES
So, whether you are hustling to the ER and need to know what lab tests to order or visiting a patient at her/his bedside, and need to know what exam you should perform or what treatment you should prescribe, the Guide provides evidence-based information written by clinicians for clinicians so you can offer the best care to the patient right in front of you.
DETAILS
The goal of the Johns Hopkins Residency Training Program is to train future leaders in medicine. To that end, the Department of Medicine provides three years of comprehensive training in general internal medicine. The program offers a wide variety of experience in acute and ambulatory medicine and many opportunities to develop scholarship in research, teaching and patient care.
SOLUTION OVERVIEW: 1-page summary to share with your colleagues
WHY CHOOSE A JOHNS HOPKINS SOLUTION?
For more than 125 years, Johns Hopkins has led the way in both biomedical discovery and patient and population care. Faculty research most often leads to innovative protocols, programs and services, establishing the standard by which others follow and build upon. Our goal: make these innovations available beyond our walls to improve the health outcomes of individuals and populations—within our community and throughout the world.
QUESTIONS?
Contact us to learn more about this solution and how it can benefit your organization.
Contact Us
DEVELOPED BY: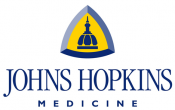 Contact Us