Hospitals Should Keep Their Older Patients Out of the Hospital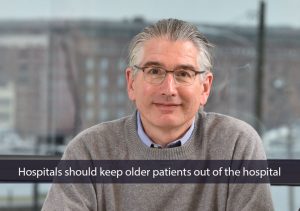 Bruce Leff, M.D., is a professor of medicine at the Johns Hopkins University School of Medicine and director of the Center for Transformative Geriatric Research at Johns Hopkins. When he looks at his older patients, he sees one powerful way to prevent them from getting sicker: Keep them as far from the hospital as possible. Which means figuring out how to offer much more sophisticated care at home. 
Watch this POLITICO interview with Dr. Leff, who talks about house calls, his back-to-the-future vision for senior health care and the role that technology could play in making it reality.
Learn more about Dr. Leff's senior care program, called Hospital at Home.